Are you tired of the clutter and lack of storage space in your home or backyard? A custom storage shed can be the perfect solution to your storage woes. With a custom shed, you can create a functional and aesthetically pleasing space that meets your specific needs. In this post, we'll explore the benefits of custom sheds and provide tips and ideas for creating your own perfect custom-built shed.
Why Choose a Custom Storage Shed?
Run of the mill pre-made sheds can be a quick and easy solution, but they may not meet your specific needs. A custom storage shed offers several benefits over a pre-made storage shed. First, you can choose the exact size and style that fits your property and storage needs. Second, you can customize the shed with accessories and features that make it unique to your style and preference.

Benefits of Custom Sheds
Custom sheds offer several benefits beyond storage space. They can serve as an outdoor workspace, a home office, a crafting or hobby room, or even a guest house. Additionally, they are quality storage buildings that can be designed to match your home's architecture and style, creating a cohesive look and enhancing your property's value. With a custom shed, you have the flexibility to design a space that meets your unique needs.

Custom Built Shed Options: Materials, Styles, and Accessories
When building a custom shed, you have many options to choose from, including materials, styles, and accessories. Wood and metal are the most common materials for custom sheds, each with its advantages and disadvantages. Wooden sheds offer a traditional and classic look, while metal sheds are more durable and weather-resistant. There are also hybrid options available that combine the benefits of both materials. You can choose from various styles, such as barn-style, gable-style, or lean-to, and add accessories such as skylights, dormers, or even a porch.

Factors to Consider When Building a Custom Shed
When building a custom shed, there are several factors to consider to ensure that it meets your needs and enhances your property's value.
Measuring Your Backyard
One of the most important factors to consider is the size of your backyard for your shed. Before you start building, measure your backyard carefully to ensure that your shed will fit comfortably and won't encroach on any neighboring properties. Consider factors such as the location of trees, bushes, or other obstacles that may affect the placement of your shed.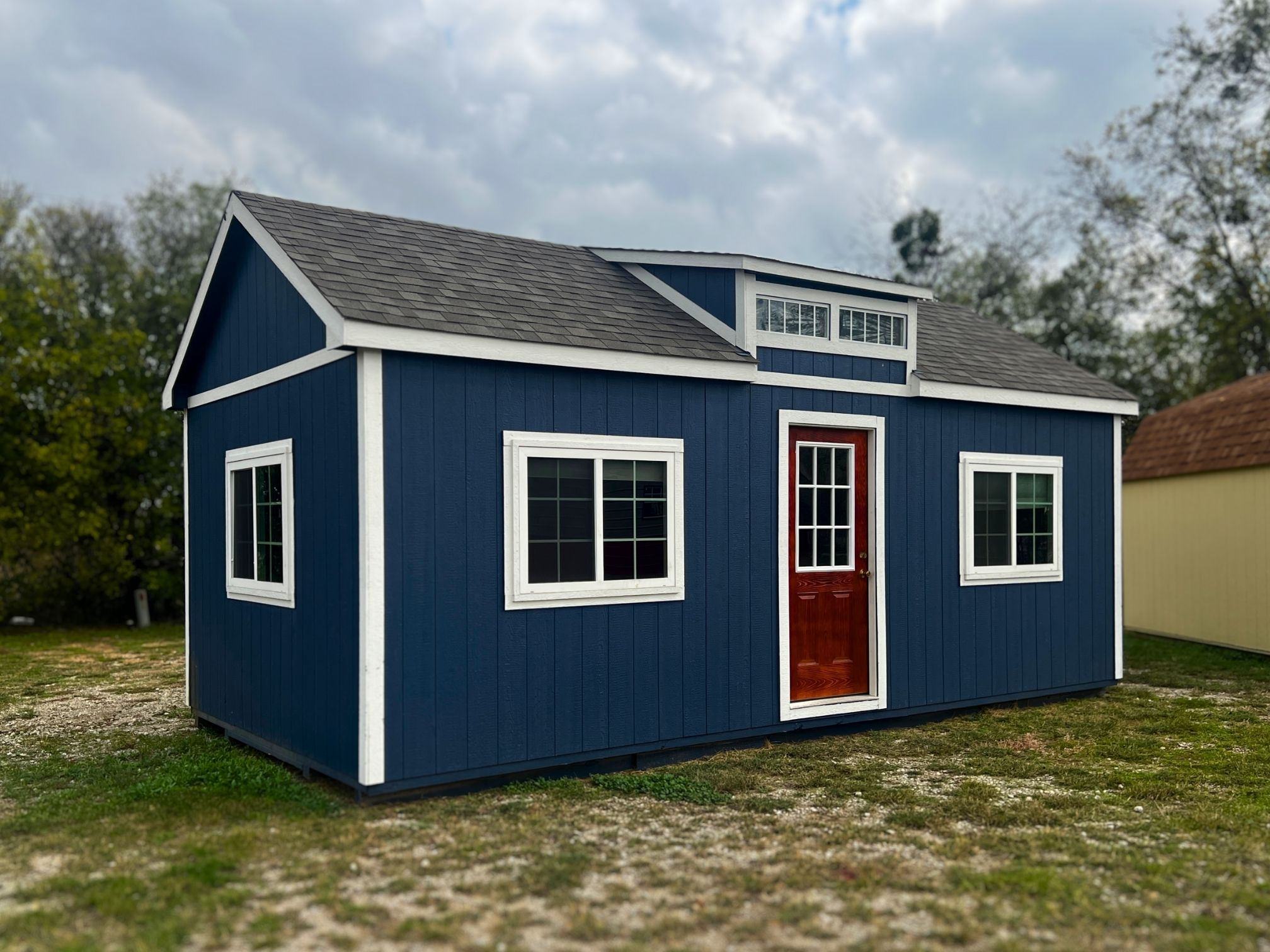 Choosing the Right Style for Your Property
The style of your custom shed should complement your home's architecture and enhance your house and backyard's overall look. Consider factors such as the slope of your backyard, the style of your home, and the purpose of your shed. A shed with a sloped roof may be a better choice if you live in an area with heavy rainfall or snow, while a flat roof may work well in a warmer climate.
The Importance of Quality Materials
Using high-quality materials is essential for building a durable and long-lasting custom shed. Cheap materials may save you money in the short term, but they may not withstand the test of time or harsh weather conditions. Choose materials that are resistant to water, rot, and pests, such as pressure-treated lumber or steel.

Customizing Your Shed with Accessories
Adding accessories to your custom shed can enhance its functionality and aesthetic appeal. Consider adding windows for natural light and ventilation, or skylights for additional lighting. You can also add shelves, workbenches, or hooks for organization and more storage space. A porch or patio can add outdoor living space and make your shed a cozy retreat.
Ventilation and Insulation
Proper ventilation and insulation are crucial for maintaining a comfortable and healthy environment inside your shed. Good ventilation can prevent moisture buildup, mold, and mildew, while insulation and windows can help regulate the temperature and keep your shed warm in winter and cool in summer.

Lighting and Electrical Wiring
Adding electrical wiring and lighting to your custom shed can make it more functional and versatile. Consider adding outlets for power tools or appliances, as well as lighting fixtures for increased visibility and safety. Hiring a licensed electrician is recommended to ensure that your shed is up to code and safe.
Flooring and Foundations
The foundation and flooring of your custom shed are essential for its stability and durability. A solid foundation, such as a concrete slab or piers, can prevent sheds from shifting or settling over time. Consider using pressure-treated lumber for the floor to prevent rot and pests.

Delivery and Assembly
Once you've designed your perfect custom shed, it's time to arrange delivery and assembly. Many companies offer delivery and installation services, so be sure to choose a reputable company that can handle the job safely and efficiently. Some companies may even offer custom options and customized delivery options to accommodate your specific needs.
From Storage to Home Offices
Ideas for Customizing Your Shed Custom sheds can serve many purposes beyond storage space. Here are a few ideas for customizing your shed:
Creating a Home Office in Your Shed
A custom shed can make a perfect home office, providing a quiet and distraction-free space to work. With the right insulation and lighting, your wood shed can be a comfortable and productive workspace.
Using Your Shed for Hobbies and Crafts
A custom shed can also serve as a crafting or hobby room, providing a space to pursue your interests and passions. Adding shelving and storage can help organize your supplies and materials.
Creating a Guest Room or Airbnb Rental
If you have frequent guests or want to earn extra income, building a custom shed can make a perfect guest room or Airbnb rental. Adding a small kitchenette and bathroom can make your shed a comfortable and convenient retreat for your guests.

If you're ready to create your own custom shed and add more storage space or a functional living area to your backyard, contact us today. Our team of experienced professionals can help you design and build the perfect shed for your needs. We offer delivery and installation services and are committed to providing excellent customer service and satisfaction. Don't settle for a generic storage shed. Create a custom-built shed that's perfect for you today!
Like this article? You'll love our emails. Subscribe below.